Frequently Asked Questions


Support Phone
+1-800-719-5003
Account Help
At the top right of the Home page you will see a person icon. Click on that icon to register for an account.
Yes, you can purchase wholesale. Click here to apply for a wholesale account. Once you are approved, you will have access to our wholesale pricing.
You can sign into your account and change the password once there or select forgot password to force a password change.
At the bottom of the Home page you can input your e-mail under Keep in Touch.
Yes, we do! More information coming soon.
Care and Cleaning
The care of each yoga mat is different. The care instructions for each mat are on the product page.
Hand or machine wash in warm or cold water. Tumble dry with low heat. Adding softener when washing or a softener sheet in the dryer makes them feel great.
We work with our manufacturer to obtain the best products, however sometimes lint is inevitable. Each batch of blankets is different and is made of recycled fibers, which can contribute to the amount of lint. The more you wash the blankets, the more the lint should come off.
All products can be returned within 60 days if you find you have a problem with them. We offer an additional warranty on our yoga mats, click this link to find out more about it.
Company Info
We are available from 10 am to 4 pm EST, Monday thru Friday.
You can give us a call at 800-719-5003 or email us at orders@mountadams.com. Or fill out the form here Contact Us.
Our warehouse is located just outside of Charlotte, North Carolina. Our address is 4824 Starcrest Drive, Monroe, NC 28110.
Order Help
Unfortunately, once you have placed your order it cannot be changed or canceled. This is because our team picks and packs your order right away to ensure we are processing orders in a timely manner.
Sometimes packages are marked delivered by FedEx even if they have not been delivered. Look around the delivery location to see if it was misplaced, and ask around to see if anyone else accepted the delivery. Please wait 48 hours before contacting us, since FedEx occasionally delivers packages late.
Returns and Exchanges
We have a 60-day return policy, which means you have 60 days after receiving your item to request a return.
Unfortunately, due to our ever changing products and inventory, we are unable to offer exchanges. We would recommend returning your order and repurchasing the item you want.
It takes 2-3 business days for the refund to be processed.
Shipping
Orders placed before 2 pm EST will generally ship out the same day. If the order is placed after 2 pm EST, it will be shipped out the next business day.
Please refer to the FedEx ground shipping map below. Our warehouse is located in North Carolina.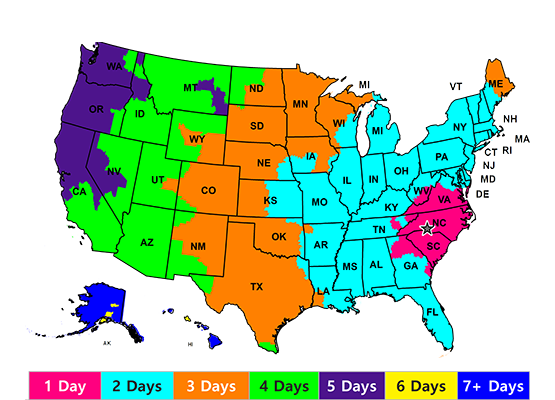 Unfortunately, we do not ship internationally at this time.
We are proud to offer free shipping on all orders.
Choosing a selection results in a full page refresh.